It is that time of year where Christmas shopping is inevitably on one's mind.  I have been thinking about the special people in my life and like to make a trip to Danaqa World Chic for some ideas and inspiration.   It is a shop just off Portobello Road.
Danaqa offers ethically sourced products made in the developing world by female-owned businesses or cooperatives that work with such businesses.  The artists Danaqa works with and purchases from are from places such as Nepal, Ethiopia, Sri Lanka, and Rwanda. 
In Danaqa's own words on their website, "The Danaqa proposition is to showcase the connection between the developing world and luxury design. The core of the Danaqa brand is the synergy between a quality product, its inspiring story and the developing world. Danaqa is hoping to have a recognised connection between luxury and social conscience a new lifestyle choice."
One can find beautiful, unique jewelry, handbags, and scarves. 
Scarves…
There are also items for the home such as napkins, copper candlesticks & vases, and pillows.
Artwork..
My favourite part of the shopping experience is hearing stories about where the product was made and who is was made by.  It is not often that we get such an explanation when purchasing a product for ourselves or a gift for another.  And what a neat way to give and share a gift with someone.  For some of the products, Danaqa has pictures of the locations on the wall.  I recently saw photos of how the silk was extracted and learned more about silk production.
I treated myself to a leather necklace embellished with silver and gold metals made by T&H Designs, owned by twins in Ethiopia.  The ends of the necklace have heavier pieces that makes the necklace lay nicely.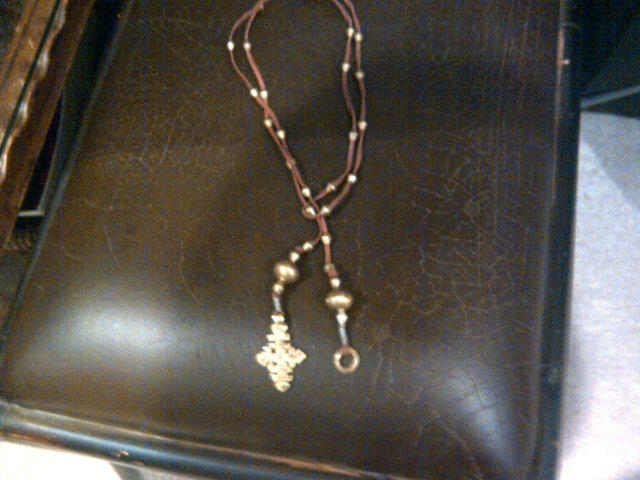 A few pieces I have had my eyes on for a while are from One Fine Thread Ostrich Eggshell collection.  Each bead/piece has been made from ostrich shells after they have served the purpose of water carrier.  The necklaces are shiny, well-made and look amazing.
What Danaqa does is offer a unique shopping experiences allowing shoppers to give back to those less fortunate but in a fair-trade sort of way.  It is not charity but it is supporting those struggling in developed countries providing quality goods and services.  So, if you normally have buyer's remorse, shopping here should cure you as you will be warmed by the knowledge that the suppliers providing the products you buy are being supported properly.
Depending on the items, it might be accompanied by a leather pouch and packaged in a box made from elephant dung paper from Sri Lanka or a nice carrier bag made from lotka paper made in Nepal from tree bark.  They now also have Christmas cards from the same sources so stop by and check them out.  Speaking of Christmas, Danaqa is offering discount evenings this Thursday, 29th Nov and next Wednesday, 5th Dec and will be open until 9 pm both nights so plenty of time to get there and shop.
If you are in Notting Hill or visiting Portobello Market, definitely stop by.  Another bonus is that you can even see the famous blue door from the Notting Hill film.  Just ask David, the owner, as he is a real sport showing the hordes of tourists where to look!
Nearby is the Spice Shop and Books for Cooks so pop in for more holidays ideas and inspiration there!
Danaqa World Chic Store
282 Westbourne Park Road   
London , W11 1EH  
T: (+44) 207 792 3466  
Website: http://danaqa.com/
Email: info@danaqa.com